Testimonies:
"My summer with Open Air Campaigners was one that I will never forget! To see how the Gospel changes lives of people is truly an awesome experience.
Open air was a challenging ministry that required me to step out of my comfort zone in my Christian life. When I was really nervous, I had to rely totally on God to be able to preach and witness effectively. I came to realize that it was at those times when I relied totally on God, that He used me the most. Open air is a ministry that taught me how to rely on God in everything I do. I learned things that summer in Los Angeles that I have been able to apply to all aspects of my Christian life.
My summer of service was one that challenged me spiritually and caused me to grow in my relationship with Christ. I encourage you to take a summer and get involved in a summer of service with Open Air Campaigners."
--Greg Cheney
"Not only did I acquire skills and techniques, but I also deepened my love for Christ and my desire to see His Gospel be preached to the lost. The preciousness of the truth of His Word became more real for me as it was proclaimed publicly."

--Valerie
Short-Term Internship Opportunities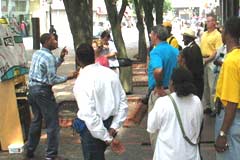 OAC trainees get practical experience sharing the gospel right from day one.
We can custom-make a time of ministry to help you fulfill personal goals or educational internship requirements. The time with us would consist of 8-hour days in which you would actively pursue direct contact with people. For educational requirements, we can dovetail your experience with us so it will reflect specific training related to your major. Daily activities can involve preparation for ministry whether it is in the area of evangelism, children's clubs, tract distribution or one-on-one spiritual counseling. We run programs in the USA and beyond for periods ranging from a week to a year, you choose the extent of time to suit your specific goals. Some of your assumptions about people may be challenged as you work with Christians from different backgrounds. You will share the joys and frustrations of life outside the realm of your normal routine. God has used this time of short-term ministry to mature, encourage and forever change many individuals who have taken advantage of this opportunity through OAC.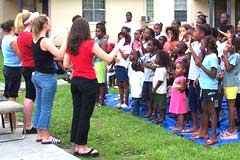 OAC trainees minister with kids and adults both.
You can work alongside full-time evangelists who not only have the experience needed for dynamic outreach, but the desire to disciple you personally in this often neglected area of spiritual gifting. All our open-air outreach ministry includes a training component so you will learn to share your faith more effectively in a variety of contexts as instruction takes place step-by-step. A portion of your time with us can also include support ministries.
You will always be under the direct supervision of our local missionary workers and also have opportunity to be evaluated and receive valuable personal feedback to help enhance and multiply your personal potential of service.
If you are considering a career in missions, this is a great way to start! If you want to be more effective in your local church, this experience will give you tools which will be used your entire lifetime. If you need to fulfill a practicum, internship or summer missions trip requirement, OAC short-term ministry is perfect.