Tom & Barbara Fox
ON STAFF SINCE 2009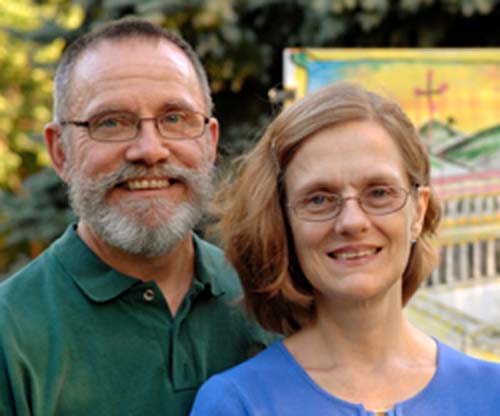 In spite of growing up in a large denomination church, I did not understand the gospel message found in the Bible.  I was active in youth group and choir and still lost in my own world of sin.
Turning away from church after high school, I slipped farther away from any pursuit of God.  My oldest brother made several attempts to witness to me to no avail.  He eventually invited me to church and I figured I would go once to stop his insistent prodding to tell me about spiritual things.   It was there at Webster Bible Church that I heard and believed for the first time that Jesus Christ was God who became a man to come to earth to sacrificially die for my sins and that He rose again the third day according to the Scriptures proving that He is God.  I believed the moment I heard the truth of the gospel.  I knew that I had a relationship with God and that God had entered my life through the Holy Spirit.
I entered into immediate discipleship with the leadership at Webster Bible Church and desired to learn more how to serve God.  Leaving Webster, NY, I earned a Bachelors' degree in Christian Education at the Washington Bible College in Lanham, MD.  It was there that I would go out with student teams into Washington DC, with Open Air Campaigners.
After college I found myself in the business world which was a different mission field than I had anticipated.  After God worked in my life for 20 years in the business arena, He called me back to school to earn a Master's degree in Christian Counseling & Discipleship.  During this time, God put a driving desire in my heart to do and teach evangelism.  I linked up with an organization, Praise N Thunder Outreach Ministries to expand and stretch my evangelism calling.
I registered for the evangelism training sponsored by OAC at Washington Bible College as a summer modular course while in seminary.  It was there that I met Paul Adams and a host of others on the OAC staff.  God continued to develop my friendship with Paul, and God continued to direct my path to OAC to fulfill His calling in my life to do and teach evangelism. I currently serve as Director of the Baltimore-Washington branch.
Barbara and I also serve as Outreach Coordinators at Belcroft Bible Church where we focus on ways to do and teach evangelism in the community.  Barbara is active in our church and participates in my ministry activities as her schedule permits. She also supports the OAC work through her full-time employment as a Procurement Analyst at L-3/D. P. Associates in Alexandria, VA.
Anniversary: 6/15
BIRTHDAYS:
Tom 7/24
Barbara 12/17
Links for the Fox ministry: